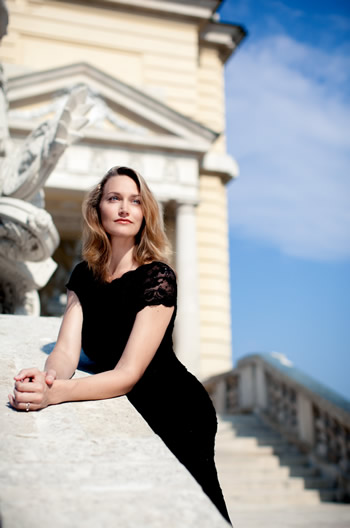 Pianist Chanda VanderHart received her Bachelor of Music Degree in Piano Performance (with honors) from the Eastman School of Music in New York. Her graduate studies took place in Europe with Julius Drake, Roger Vignoles, Dr. Carolyn Hague, Antoinette VanZabner, Kirstin Okerlund, David Aronson and Claus-Christian Schuster among many others. Currently she is a Doctoral scholarship fellow at the University for Music and Applied Arts at Vienna, writing her PhD dissertation on Lieder in 19th Century Vienna under the advisement Dr. Margaretha Saary and Dr. Susan Youens.
An active performer and recording artist, Chanda has given concerts with a wide variety of singers and instrumentalists in numerous halls throughout Europe and North America including London's Wigmore Hall, Beurs van Berlag in Amsterdam, the Concertgebow Rotterdam, Vienna's Musikverein, Volksoper and Volkstheater.
In 2008 she recorded both Brahms sonatas for cello and piano on the historical " Brahmsflügel" in Mürzzuschlag, Austria with cellist Ronald Fuchs. In September 2010 the duo released a double CD of the cellos works of Robert Fuchs on a historical New York Steinway. Other recordings include "13", songs of Barber and Argento with tenor Jason Brides (2011), Waldgespräch, a collection of fin-de-siecle Lieder with baritone Günter Haumer (2014), the Italian art song CD "Affetti del Pensier" (2015) with soprano Rusalina Mochukova, Arpád Krämer's musical theatre song-cycle "Wendepunkte" with Drew Sarich and Ann Mandrella (2015).
Chanda has taught for the Sankt Goar International Music Festival and Academy, AIMS in Graz, the Performing Center Austria and the master class series "Bel Canto Bella Voce" in Vienna. She also regularly writes concert and opera reviews for the London-based publication www.bachtrack.com as well as for MET on demand. Chanda is cofounder of both the Mosaique concert series in Vienna and the initiative Talespin, Musical Tales for Big and Small (www.talespin.eu)