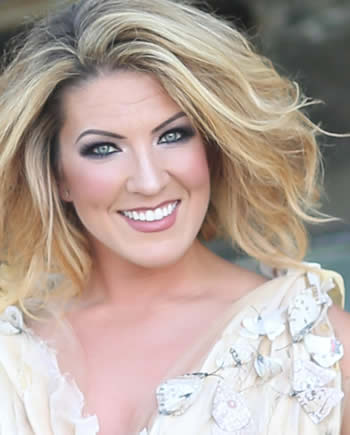 Chelsea Coyne (soprano), praised for her dramatic temperament and unique ability to charm any audience, is quickly leaving her mark on the modern classical music world. Chelsea proves her superlative vocal versatility time and time again by being equally successful in solo concerts and recitals, full opera and musical theatre productions, as well as vocal competitions.
Shortly after receiving her Master of Music Degree and Artist Diploma Certificate from The Cleveland Institute of Music, Chelsea proudly took first prize at "The Sparkling City Light Opera Emerging Artist Vocal Competition," which launched her professional singing career.
Chelsea has been performing almost exclusively at sea for the past three years, yet she still finds the time to sing in various opera and musical theatre productions when she is on land. Chelsea's most notable operatic roles include Angelina (Cinderella) [LA CENERENTOLA], Jo [LITTLE WOMEN], Carmen [LA TRAGÉDIE DE CARMEN] and Dorabella [COSÌ FAN TUTTE]; musical theatre roles include Mrs. Squires [THE MUSIC MAN], Cinderella's Mother [INTO THE WOODS] and Dorothy [THE WIZ].
Chelsea is a native of Fort Worth, Texas, USA, and enjoys working with various music schools, including her alma mater Texas Christian University where she received her Bachelor of Music Degree.
Chelsea is represented by Barry Ball Artists. For further information about Chelsea ("The Siren of the Seas") visit her website: www.ChelseaCoyne.com.